Les nus de Louise Brooks
---
This image was published in Artist and Model's Magazine, most likely in 1925. The text below the image reads, "Miss Brook's beauty is a nightly pleasure to patrons of Ziegfeld's Follies." The photo credit is to the White Studio. --- Believe it or not, this image was found in a porno shop in one of the least desirable sections of San Francisco, California. The shop carried contemporary porn magazines and videos along with a smattering of vintage erotica. This single page was found in a pile of loose pages cut from vintage magazines. All of the pages and the magazines from which they were clipped were of the pin-up type featuring scantily clad show-girls. It just goes to show, you never know what you'll find and where you'll find it.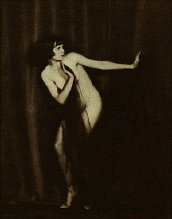 This image was published in Arts Monthly Pictorial (192?). The picture is attributed to Edwin Bower Hesser. Below this picture reads: "Mildred O'Keefe, Dancer -- Another American girl to invade London is this vigorous specialty dancer with the American Company imported into the British isles to play "Mercenary Mary." Mildred has studied under a number of great American dancing teachers, the final influence in her training coming from the lovely Majorie Leet of the Follies. This pose combines spirited action with graceful beauty of line."
Based on "internal evidence" - namely the striking similarity of this model to Brooks, the use of a draped cloth as a prop, the pose, and the overlap of Mildred O'Keefe's story with that of Brooks own life - I believe this image may well depict Louise Brooks. Perhaps Arts Monthly Pictorial felt a need to disguise the subject of the picture? I would be interested to know if anyone can reveal anything about Mildred O'Keefe, Majorie Leet or Edwin Bower Hesser.
---
début page 1 - page 2 - page 3 - page 4 - Travaux - Valentina - Fin - Révision le : 04 décembre 2003.
---